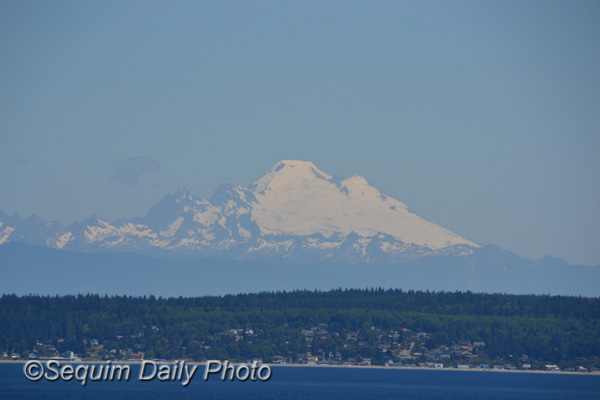 Sometimes hidden but always present, the Olympic Mountains are a touchstone when you live in Sequim. Sunny day? Good! There are the Olympics.
The Cascade Mountains east of here are another story. It takes an extra clear day to see Mt. Baker and even then it usually looks ghostly. The forested lower part of the peak recedes from view, leaving the snow capped crest appearing to float. Mt. Baker is the third highest mountain in Washington State at 10,781 feet.
This shot is sort of cheating because it was taken from Marrowstone Island, which is east of Sequim and closer to Mt. Baker. It still has that dreamy, ethereal look to it but you can see Baker a little better than you can from Sequim. Full disclosure: I boosted the contrast on this shot to strengthen the image. Even from Marrowstone Island Mt. Baker presents a faded view.