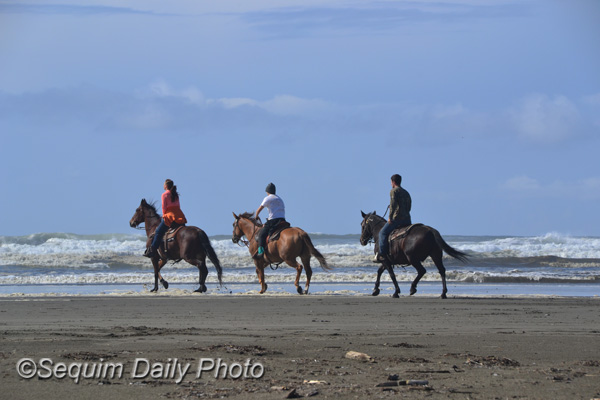 After we left Kalaloch Campground at Olympic National Park last week we headed south. Like Kalaloch, Ocean City State Park in southern Washington had the highest rating in our Camping Washington guide. And, since they were recommended, we'd even made reservations and selected a large site surrounded with lush trees and shrubs. The beach was a 5-10 minute walk.
We arrived in the pouring rain and aside from the variety of "downpour" versus "lighter showers," it stayed wet. We hadn't really needed reservations. But the following day dawned dry and improved until it was actually sunny. And the local population came out and enjoyed the beach with us.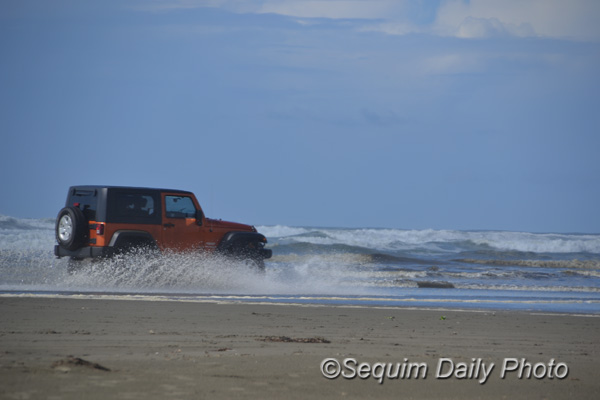 There is a highway in Ocean City that literally terminates at the beach. Throughout the entire afternoon we were there, a steady stream of cars and trucks drove up and down the beach near the waves. Most drove sensibly. A few, like this one, were in pretend car commercials. One drove in a donut, spraying sand everywhere. This was when we decided to lie further back, in the dunes.
I'm not used to sharing beaches with traffic. In addition to horses and cars, we also saw mopeds and bicycles. Is the old fashioned beach walk becoming a thing of the past?