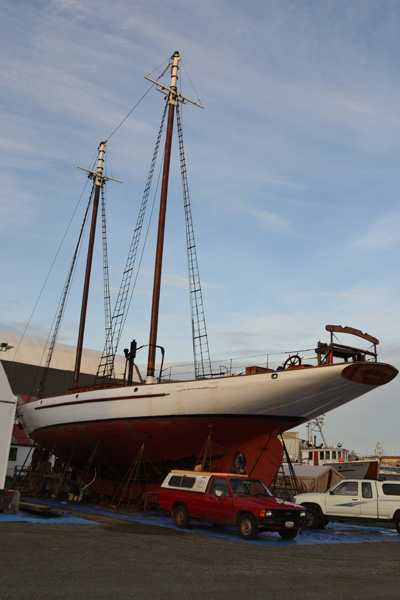 The historic gaff-rigged schooner Adventuress has been hauled out for refit in Port Townsend and we stopped by to take a look at her last week. Launched in 1913 in Maine, she has led a colorful life and is listed as a National Historic Landmark.
Adventuress was designed by B.B. Crowninshield for John Borden who sailed her to Alaska intending to catch a bowhead whale for the American Musuem of Natural History in New York. While the whaling adventure failed, naturalist Roy Chapman Andrews filmed fur seals on this journey, which led to early efforts to protect them.
Borden sold Adventuress to the San Francisco Bar Pilots Association and she served 35 years transporting pilots to and from cargo vessels on the California coast just outside San Francisco Bay. During World War II she became a U.S. Coast Guard Vessel guarding San Francisco Bay.
She eventually made her way up to Seattle and the Puget Sound area where she now is operated by Sound Experience as part of an environmental education experience on Puget Sound.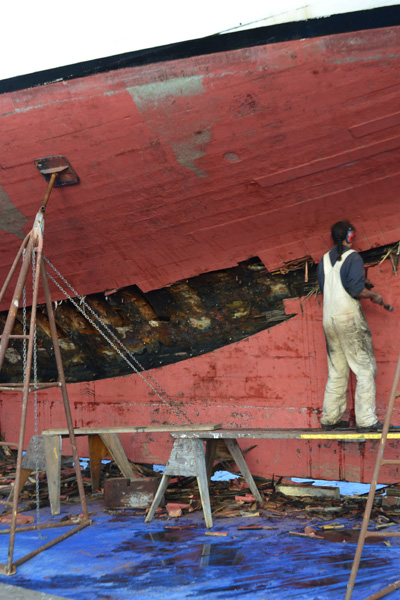 Adventuress is a beautiful boat and is getting repairs she obviously needs. Planking below her waterline is being replaced, along with other work that the 100 year-old lady has earned in her long and storied life. You can see both old and new (smooth) planking above the worker's head in this shot.