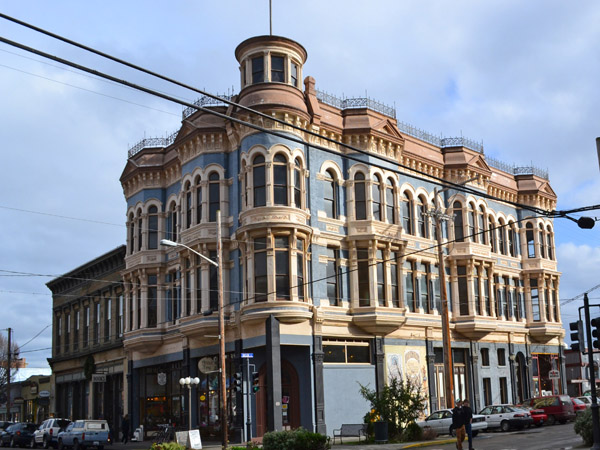 The Victorian architecture of Port Townsend is real eye candy. Many of the buildings were completed in the late 1890s and the two I'll show you today were both the work of architect Elmer H. Fisher. Fisher was a Scotsman who designed a number of Port Townsend buildings starting around 1887 and simultaneously opened an office in Seattle, where he designed more than 50 buildings immediately after Seattle's great fire of 1889.
The Hastings Building, above, was built at a cost of $35,000 to $45,000 and completed in 1890. It has a 38-foot inner courtyard topped with a glass skylight and has housed businesses from dry goods to a reputed bordello. Today the ground floor houses retail businesses and the upper floors are not occupied. Descendents of the original family still own the building and are working on an ambitious restoration of the structure.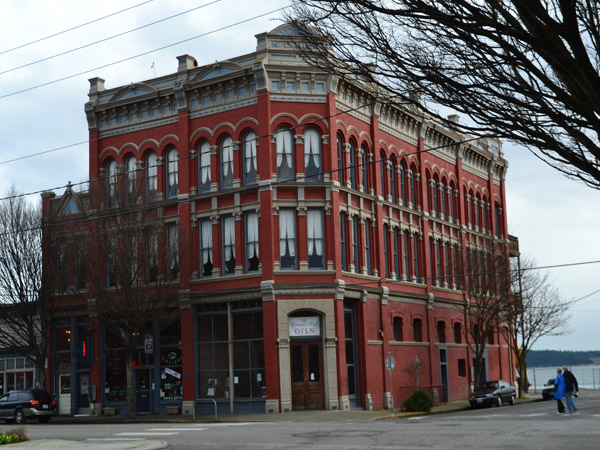 Here is another Elmer H. Fisher design, the N.D. Hill Building. This $25,000 building has been maintained and kept in near original condition. Like the Hastings Building above, it has a skylighted interior courtyard. In the late 1920s this building was the DeVillo Hotel and rooms ran from 75 cents to $1.25 a night. The upper floors today are the location of the Water Street Hotel. Rooms run a bit more, but they're pretty reasonable by today's standards.
Both of the buildings I've shown today back up to Port Townsend Bay and share Water Street with buildings of the same vintage Victorian architecture. There is an interesting mix of small shops, galleries, boutiques, and restaurants. There are historic "ghost signs" on the brick walls of many buildings, some of which I posted here on Monday.
In the 1960s Port Townsend expanded its small boat building industry. Tomorrow I'll visit PT's saltier side.