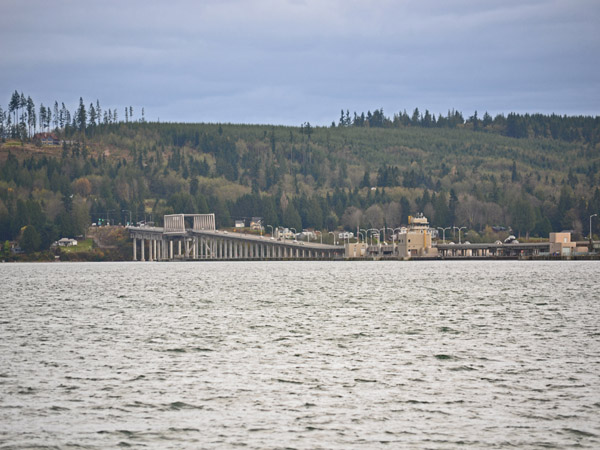 If you drive east from the Olympic Peninsula chances are good that you'll cross the Hood Canal Bridge. State Route 104 is the main way that locals get to and from the Kitsap Peninsula, the Seattle ferries, and similar points southeast. Many of us feel a palpable sense of homecoming when we're across the bridge and back on the Olympic Peninsula. This is a view of the eastern span of the bridge from the northwest shore. It shows roughly half the bridge.
Officially known as the William A. Bugge Bridge, the span is the world's longest floating bridge located in a saltwater tidal basin and the third longest floating bridge. A section of the 7,869 foot span opens to accommodate passing ships.
The bridge was opened in 1961 and sank in a severe windstorm in 1979. It was repaired and reopened in 1982. It was most recently closed for upgrades in 2009, causing a fair amount of angst for travelers. Average usage as of 2007 was about 16,400 vehicles a day.