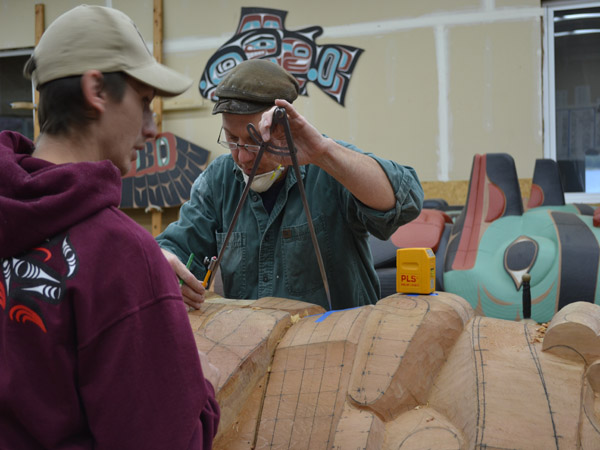 The totem poles erected by the S'Klallam Tribe are creations that celebrate a contemporary culture. In addition to their tribal operations, the S'Klallam operate a casino, a convenience store, deli, gas station, art gallery, construction and excavating companies, and they recently opened a community health center. Above is a carving shed where their totem poles are created.
Below is a workbench with tools in current use. More tools are stored elsewhere in the shop.  The carvers at the top of this page are transferring the design onto the wood with a compass. They use tools that most contemporary carvers would recognize: adzes, chisels, gouges, and carving knives, even a laser level — the little yellow instrument above marked "PLS."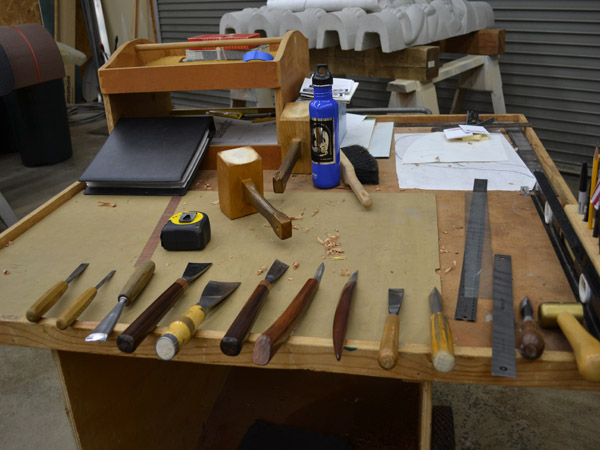 The pole that's being worked on here is similar to a traditional mortuary pole. It will contain the ashes of the wife of a man who has independently commissioned it. A typical full sized totem pole is carved from a Western Red Cedar tree that is generally 500-900 years old. Trees were once harvested from the western rainforests of Clallam County; carvers for the S'Klallam now go afield to British Columbia and Alaska — or anywhere they can get trees of the right size.  The totem workshop is fragrant with the smell of cedar and the rings of the pole being worked on were so tight that counting them would be a bit like measuring sand on a beach. 
The Tribal Council must approve all totem pole designs. The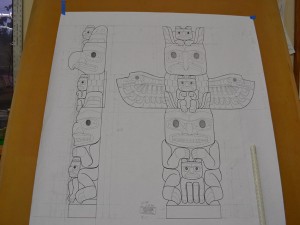 drawing at left shows the design, I believe, of the pole that is being created — I did not confirm that with the carvers.
Depending on the size and complexity of the design, a typical totem pole can take from four to six months to complete.
Below is the top of the new totem. You can see its form taking shape as well as features that will be carved from the wood. Beyond the new carving are two completed totems that are destined for the Blyn Fire Station that the tribe has built. It is adjacent to their gas station and convenience store.  The totems will be erected after the excavation and foundations have been completed for their placement.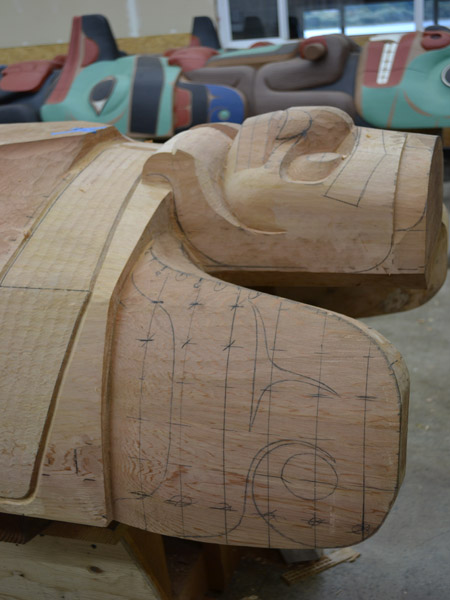 The poles can weigh 2,000 pounds. They are placed today with the aid of a crane hoist and supported by steel. A traditional pole would have been raised using a tripod of long poles. I hope to attend the dedication ceremony of the Blyn Firehouse poles. If I do, I'll take pictures and post information about that.
Tomorrow: Meet Dale Faulstich, artist and carver for the S'Klallam Tribe, and see more of the carving shop.