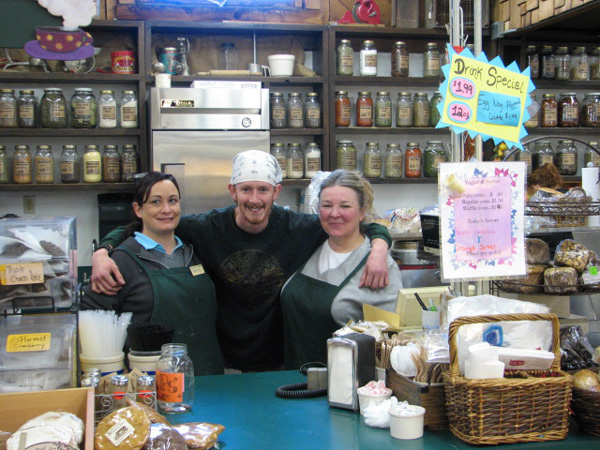 Denise, Shawn, and Cheryl are three of my favorite people. They run/work in the Deli at Sunny Farms. For several years I've run a Quilting Retreat in my home. The quilters get sandwich order forms from Sunny Farms at breakfast and I call to find out the soup of the day. I ask for 45 minutes notice before they want lunch…call the sandwiches in and drive down to Sunny Farms and pick them up. Lunch is topped off with one of their famous cookies. The Royal is my favorite. Everyone gets what they want, the sandwiches taste fantastic, and Cheryl and her crew take excellent care of their customers.
Sunny Farms enjoys a loyal local following and is famous for their veggies, fruits, and premuim meats. The Deli also carries the biggest selection of herbs and spices I have ever come across. (Note the jars in the background.) I once stood in line behind some folks from Seattle who were buying Saffron.
Can you tell I love this place? I would recommend on your next visit to Sequim you stop by and say hi. Thanks again to Cheryl and her crew for their excellent service.