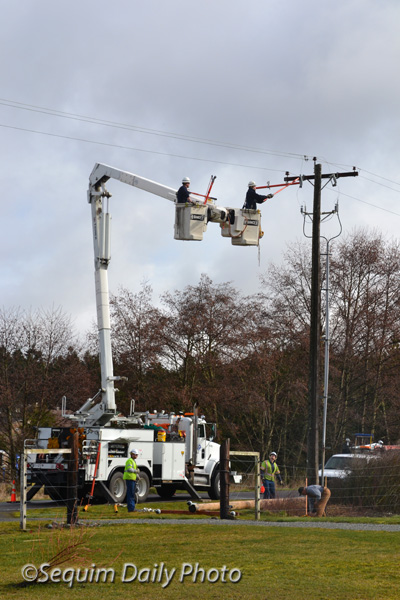 The Public Utility District (PUD) is working its way through replacing a run of power line poles. It's not glamorous but if it assures uninterrupted power I'm all for it. New poles were laid down next to the old and crews cut back brush around the old ones. A survey crew did some work. Then the cherry picker, above, hoisted a couple of men into range to attach poles which reposition the wires. That was one big truck. Notice that it's got braces at the bottom. Flaggers directed traffic around the operation.
Many years ago I ran an educational tree-planting program. The local conservation corps helped us out with a two-person auger to pre-dig holes for the trees. Faced with that or manual labor the auger was pretty awesome. And I can assure you that the auger the PUD pulled out to dig the pole hole was more than awesome. I guess this is where I admit that I'm impressed with what heavy equipment can do.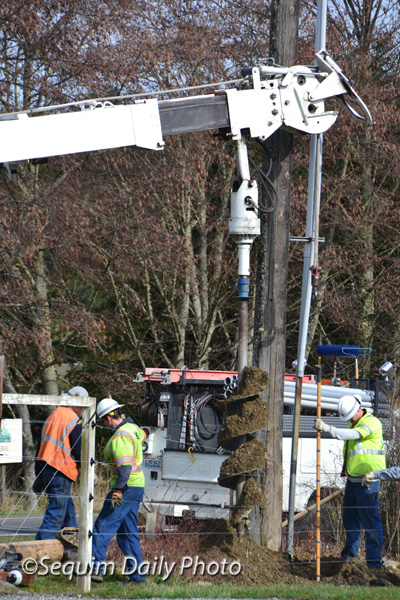 Just like that the hole was dug. Picking up the new pole and positioning it into the hole was quick work.
Here's the rig that did the drilling and heavy lifting. A couple more poles and I think the wiring will shift over to the new poles.