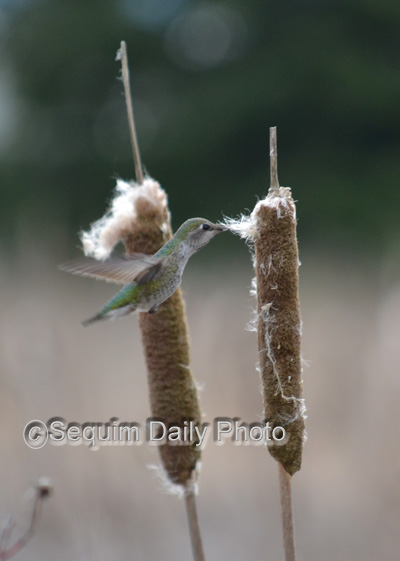 Birds around here only need a couple days of springlike weather to get the idea: time to nest! I caught this sweet little hummingbird (a female Anna's, I believe) gathering some nest materials among the marsh cattails.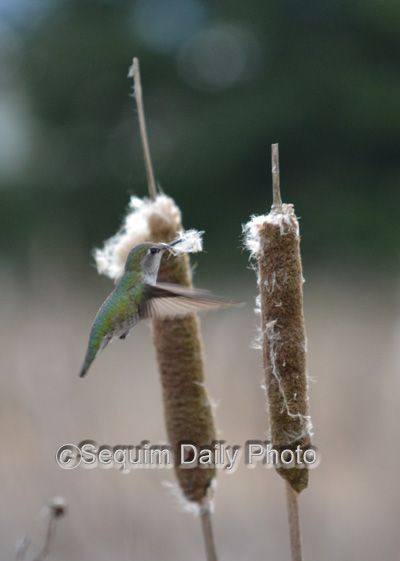 She got a good beakfull before she took off for parts unknown. Ever seen a hummingbird nest? Scroll down.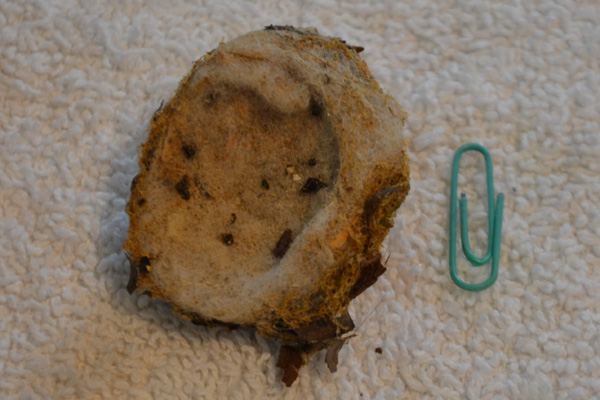 We had a bamboo wind chime in California that housed a hummingbird nest. To our delight it was located just outside a glass sliding door. It was quite a hub of activity as first the hummer built the nest and then negotiated a no-fly zone with all the neighborhood birds that used the fountain located about four feet below it. They worked it out. As long as the hummingbird nested above other birds flew in low, never invading the airspace of about two feet around the wind chime and the nest. Eggs hatched in a couple of weeks (16-17 days according to my bird book) and we saw at least one miniscule beak. Work prevented our collapsing into full time viewing. It seemed they were gone in almost the blink of an eye. We waited months before we examined and then collected the nest from our wind chime. The exterior includes tiny pieces of soft redwood bark and lichen. The interior is very soft. It could well be cattail down. And the paper clip pictured here is actually slightly smaller than the standard chrome variety. It is 1-1/8 inch long.
I love hummingbirds. I may post a couple more from this series. But tomorrow: another sort of bird. . .a very big one.
Sharing with: