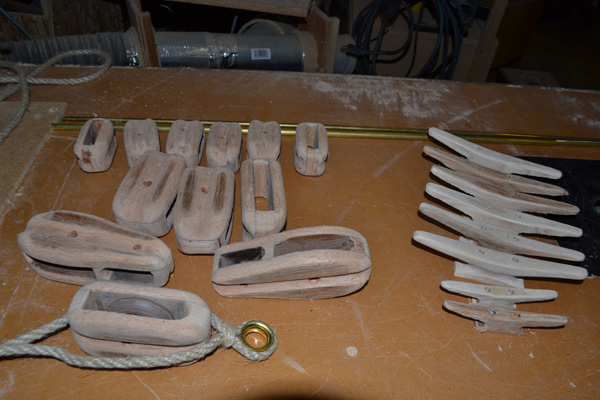 We've not had good weather for being out-of-doors and my husband and I have taken to indoor pursuits. Although he's promised for months (really, I'm not exagggerating) to build a countertop desk and improve my office work space, the first priority is to finish current parts and pieces for the Scamp boat that he will build in March. It makes him happy and they're things he needs. How can I complain?
If you're not of the mariner persuasion, you're looking at running rigging blocks above, on the left, and cleats on the right. The cleats, for securing ends of rigging or mooring lines, are fashioned from hickory.
Here's a closer look at one of the running rigging blocks, mocked up to show more of what it will look like as a finished product. The blocks are for ropes that control all the moving parts of the sail rig. These parts are made from mahogany. The blocks and the cleats will be finished with epoxy and marine spar varnish.
What do I do as an indoor diversion? Well, maybe I'll show you tomorrow.