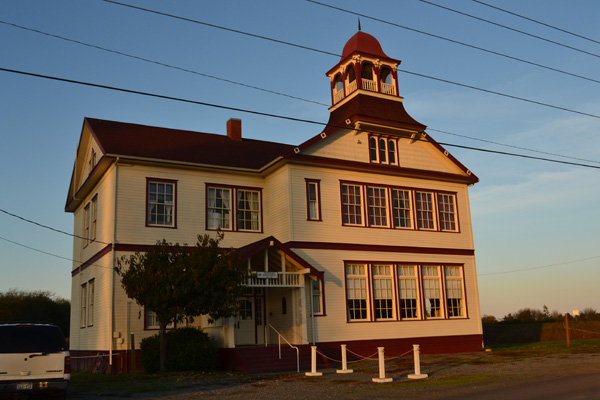 The Dungeness School was opened on February 27, 1893 with 73 pupils aged from five to 20 years old. The school's teacher lived in quarters that were provided on the second floor. The original building was rectangular; the wing you see to the left, with the door, was added in 1921 with modern heating, plumbing and wide stairs to the second floor.
By 1923 two teachers taught eight classes. After 1940, seventh and eighth graders were sent to Sequim High School. School districts were consolidated and the Dungeness School was closed in 1955. The land and building was purchased from the Sequim School District by the Dungeness Community Club in 1967 and refurbished and maintained through extensive volunteer work.
The facility was donated in 1995 to the local Museum and Art Center which now maintains and rents it to the community.
The Dungeness School was designated a Washington State Historical Site in 1973 and listed on the National Register of Historical Places in 1988.