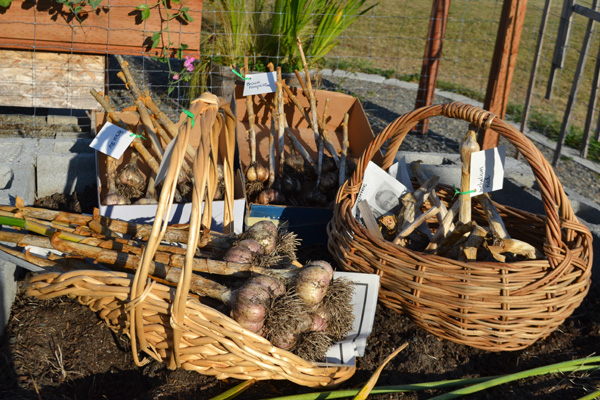 I grew my first successful crop of garlic last year. It was modest, perhaps a dozen heads of Nash's Delta Giant but I was hooked. The dried version you get at the supermarket is pretty generic, much of it imported from China. Fresh garlic is gentle, succulent, and nuanced. It grows well here. It gives bragging rights. So I set aside a whole bed for this year's crop. Like any addict, I wanted more. Much more.
Garlic is planted in the fall and Nash's seed crop failed last year. This led me to a local garlic maven, Blythe Barbolian, of Barbolian Fields Garlic. I landed in Garlic Heaven. Did I want softneck? Hardneck? Hot and spicy? Mild? Artichoke? Asian? Porcelain? Oh, dear!
Blythe is patient and good hearted. She knew the signs of a fresh convert and walked me through her tiny workshop of baskets loaded with heads of garlic – large, small, porcelain, purple. I estimated the number of plants I could grow and she helped me decide. I came home with a small bag of this year's promise which I planted last November. The photo above is most of the bounty. There are also about a dozen heads already harvested.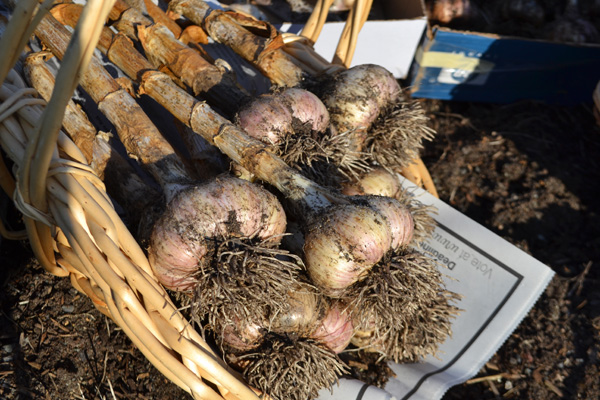 German Extra Hardy (porcelain, shown above), Inchelium Red (artichoke), Brown Tempest and Persian Star (purple stripe). And she threw in some Juan de Fuca Wonder, their own rocambole. Plus the Siberian that I'd already harvested.
Some years ago I helped at a friend's party with kitchen duties, peeling and chopping garlic. When another guest commented on my work, without thinking I said, "Garlic makes me happy." I hadn't realized it until that moment but it was one of those simple, unrealized truths. And now that I can grow it I'm very happy indeed.
Simple pleasures are like that. Life is good.