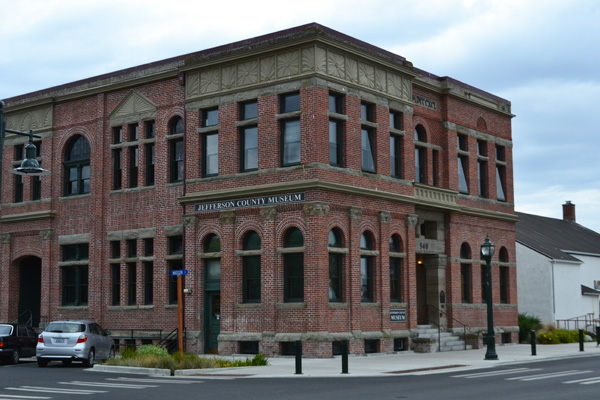 I nearly missed an exhibition in Port Townsend of Ansel Adams photos taken at the World War II internment camp, Manzanar. But because it had been so enthusiastically received, the exhibit was extended until Labor Day and I headed to the Jefferson County Musuem to check it out.
After we paid our entrance fee I was firmly told that photos were not allowed, with or without flash. This was a disappointment – and even moreso when I saw the exhibit. The work was not a display of Ansel Adams prints but reproductions on large sheets of texts that told of the experiences of the Japanese Americans who were interned. The prints themselves are downloadable free from the Library of Congress website (www.loc.gov) as is Adams' book, "Born Free and Equal: The Story of Loyal Japanese-Americans at Manzanar Relocation Center, Inyo County, California." The exhibit itself was in the former Jefferson County Jail, a dreary cement basement in the building shown above. I'm puzzled by the photography ban.
The exhibit is a touching and disquieting portrait of American history and has local relevance because Manzanar was the first camp where local Japanese Americans from Bainbridge Island were sent. Residents from Bainbridge Island were also the first West Coast Japanese Americans to be relocated. Orders were posted on March 24, 1942 and by March 30 internees were sent to the Center. Six days to dispose of virtually all ones possessions. Internees could take only what they could carry.
Manzanar is a vividly stark and remote place. I have driven past it many times. No buildings remain. Until more recent years, when an effort has been made to remember this era of our history, very little marks its significance. While there, the internees turned the desert into cultivated fields, created a small hospital, and educated their children. Many of the young men volunteered for military service and served the U.S. with great distinction. In the 1980s President Ronald Reagan issued a formal apology.
Some years ago in Death Valley, California, I was surprised to learn that there had been a World War II internment camp there as well. I took the photo above of a barracks there while on a ranger-led walk. Like Manzanar, it was a remote and unforgiving environment. Here too the internees made the best of the situation. In Death Valley they volunteered for work details that led to many of the improvements that exist in present day Death Valley National Park.