Actually, Peter is not a cottontail. The bunny shown here is from felted Suffolk sheeps wool and the photo barely does his cuteness justice. I discovered recently that in addition to her many other talents my friend Miriam also does felting, in this case needle felting.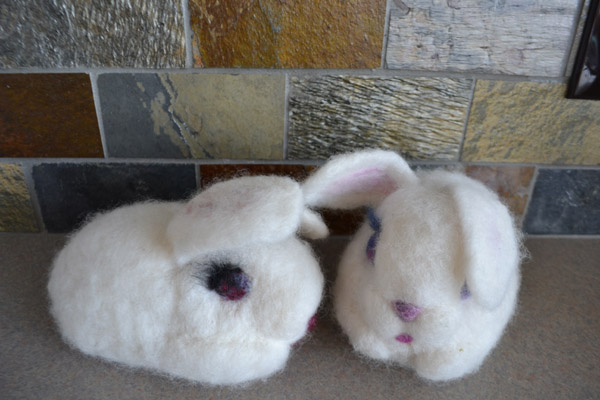 Needle felting uses finely barbed needles to fuse a layer of fiber onto a base. In this case, Miriam used a base form of wool and felted it together with more wool to create and keep its form. These little bunnies are about five inches long and light as a feather. Although they look and feel delicate, they have seen plenty of action with Miriam's grandchildren, including service as a football. Aren't they cute?
The Suffolk wool used to make these bunnies is from a "down" breed typically raised for food rather than fiber. The wool is spongey, with less lanolin than from breeds raised for fiber. The character of Suffolk wool lends itself well to needle felting.
On the left, here, Miriam was making a bunny from the wool of llamas she used to own. She steadily punches the top layer of wool with the barbed needle and the fibers catch and mat together.
On the right, below, are some of the tools she uses in her needle felting. The yellow and green fiber is silk. The orange fiber is wool.
Happy Easter!