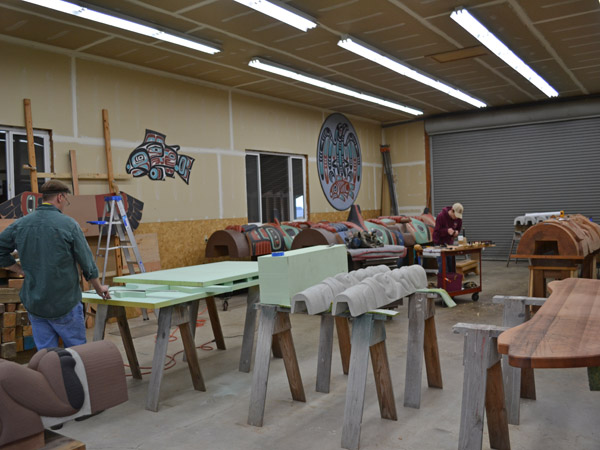 Here is a view of the Blyn carving shed of the S'Klallam Tribe. In addition to the huge, hefty cedar logs used for totems, the carvers also render in foam. Two such pieces are on the wall to the left. This allows them to create lightweight pieces was wall hangings. In the center above are two cast totems that have been designed for the Tribe to sell as commercial products.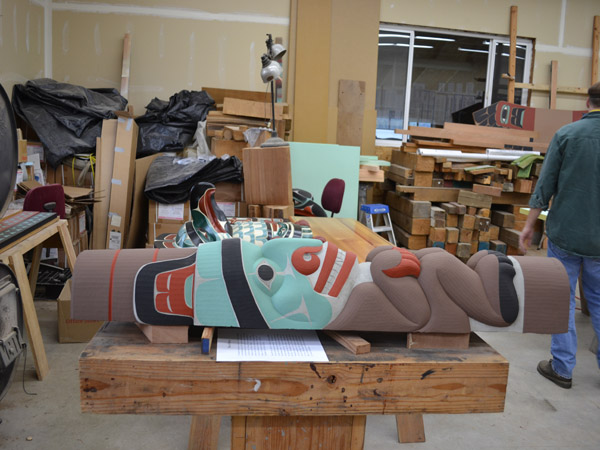 The cast totems tell the story of the "Bear of Heaven," from Nuxalk mythology where the House of Myths is the dwelling pace of supernatural beings that influence the natural phenomena of the world in which we live. The "Bear of Heaven," Nusme'ta acts as a guardian of the Path of the Sun. The sun travels on a bridge; where he walks on the bridge explains the varying height of the sun during the year. One of Nusme'ta's duties is to assure that the sun does not tarry too long at the Solstice. The Bear of Heaven totems will sell for $250 unpainted. The cost for a painted totem had not been calculated when I visited.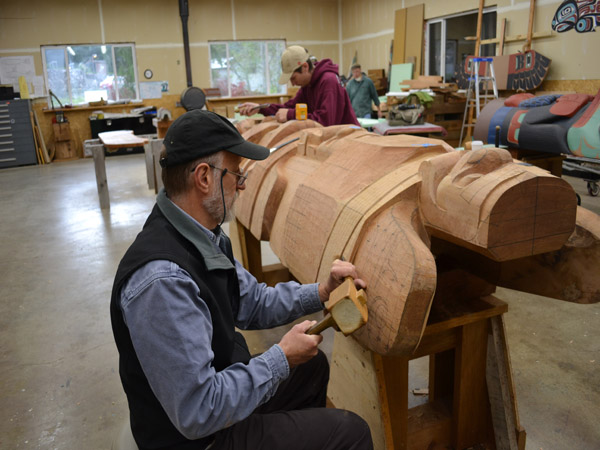 This is Dale Faulstich, the artist who has designed and carved the S'Klallam totems I've shown you over the past week. Dale has worked for the Tribe for over 20 years and has translated its history and cultural heritage into the poles that now grace Tribe's properties. The carving shed where Dale and the other carvers work is open Mondays through Fridays and Dale was very gracious in telling us about the totems and how they are made. I'm sorry to admit that I did not get the names of the other carvers I have pictured.
Click here for more information about the Jamestown S'Klallam tribe and here for a link through the Jamestown gift shop or here for a link through Amazon for information about "Totem Poles of the Jamestown S'Klallam Tribe" which describes the poles and their tales more fully.
I've enjoyed sharing these photos and what I've learned about the local totem poles and hope it has interested you, too. I have not shown you all of them yet and plan to bring more pictures of them to the Sequim Daily Photo in coming months. Stay tuned!