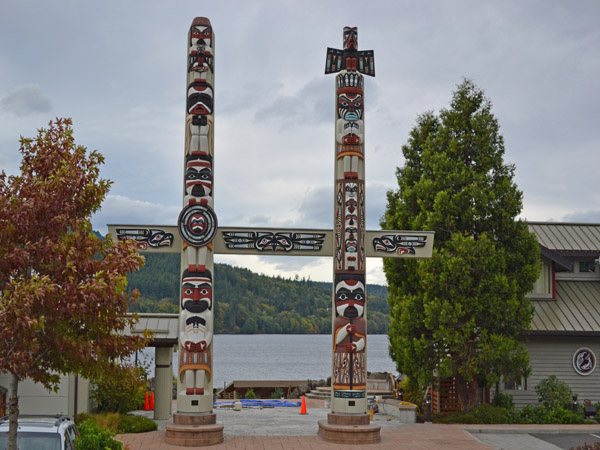 There is a dance plaza at the S'Klallam Tribal Center where these two totem poles stand. They overlook Sequim Bay and are called the "Strong People House Posts."  The S'Klallam people are known as "the Strong People" and this is an adaptation of the story the poles tell:
Faced with the task of lifting a particularly heavy house post the tribes of the area once gathered. One by one, groups from each tribe tried to heft the huge log and, one by one, they failed.
The S'Klallam people considered the problem. They rolled the long pole into the water of Sequim Bay. As the log began to float, their strongest men stooped in the water to put their shoulders underneath. Then they stood, and by their combined strength they lifted the pole from the water and carried it to its place. From that day, the S'Klallam have been known as "the Strong People."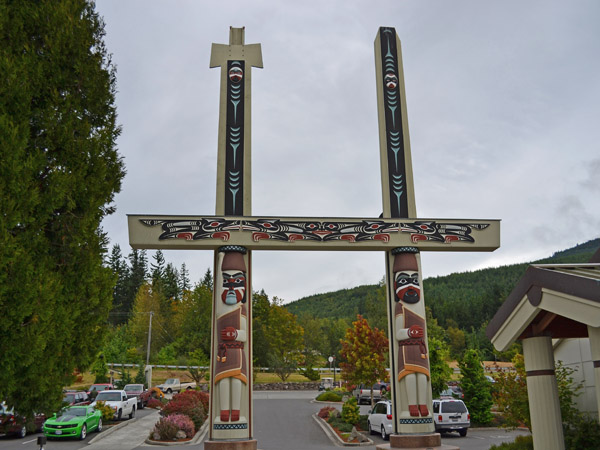 This is the back of the Dance Plaza poles. These poles commemorate the 1874 tribal actions in acquiring the Jamestown lands that I told you about yesterday.
Most of the information I have posted about all of the S'Klallam totem poles has been taken from a beautiful and interesting book entitled "Totem Poles of the Jamestown S'Klallam Tribe: The Art of Dale Faulstich" (available — where else? — on Amazon.com and also at some local Sequim outlets).  It contains many stories told by Tribal Elder and storyteller Elaine Grinnell and far more detail than I can share in my posts.
Tomorrow I'll take you into the carving shed of the Tribe and show you a carving project.