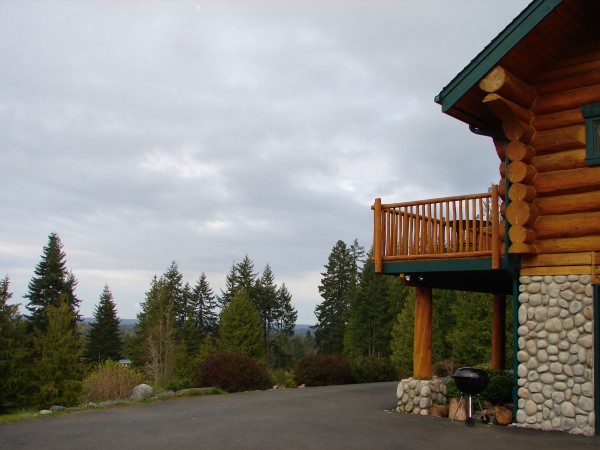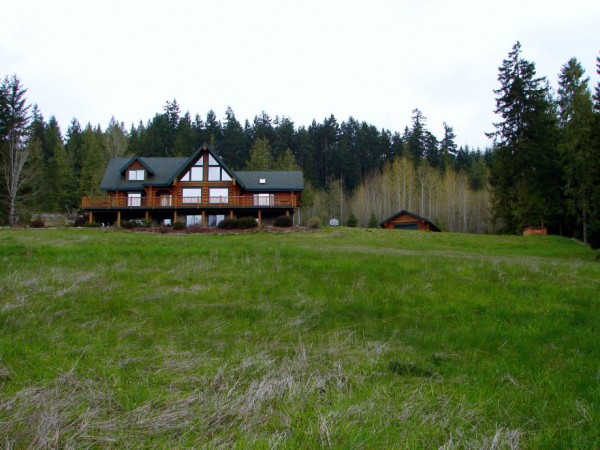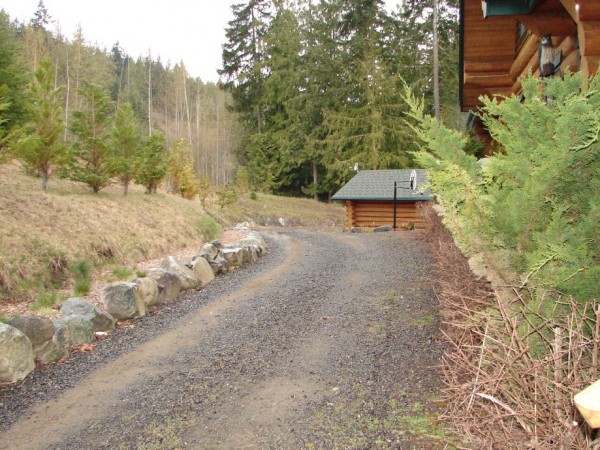 On Monday I mentioned that we went away over the weekend to an amazing place.   This is the place we went to celebrate a combo of our anniversary and Easter.  My parents came for the Easter part.  Last fall I posted a picture of this house when it was for sale, saying that it would make a great vacation rental.   For years we have been staying at a vacation rental in Quilcene when we need to get away for a bit.  All profits from that rental go to the owner's abused animal rescue farm and we love the place.  So on Thursday when I was looking up a place to stay, I clicked on that rental site and on the site it says click here to see all of the owner's rental listings and to my surprise there was the huge log home I'd seen in Sequim over the fall and it was now a vacation rental.  So I contacted the owner (who is the nicest person!) and it was available and we made the plans to go. 
I cannot begin to describe how cool this place is!  It was as if someone had said to me pick all the things you'd want in a vacation home and poof it was created and on a huge scale.   The home itself is absolutely surreal.  Pictures and words can't convey how it feels to walk into this place and make one discovery after another and to see how beautiful it is inside.  It is three stories with 5 bedrooms and each room has a different theme.  There are beautifully painted murals on the wall and a great mix of artwork.  The home made us feel like we were in luxury and yet completely at home at the same time.  It had a fireplace, a basketball hoop outside, private hot tub, claw foot tub, jacuzzi tub, game room in the garage with card table, foosball, air hockey, pool, bikes to ride and more.  There was a little nature trail that went around the property so that you could walk and explore.  There were several bbq's outside and an immense kitchen inside. In the early mornings I sat on the deck and just took in the sounds of nature and watched the water-you can see the lighthouse and the ships passing by.  It has been a long time since I felt as relaxed as I did there, it's so quiet and peaceful.  We were 6 miles from home, but I felt a world away. It was great to see my parents enjoying themselves too and getting to relax away from it all.  The home is pet-friendly and my dogs were in their own kind of paradise there too which made me real happy to see.
Tomorrow I will post some pictures of the inside.