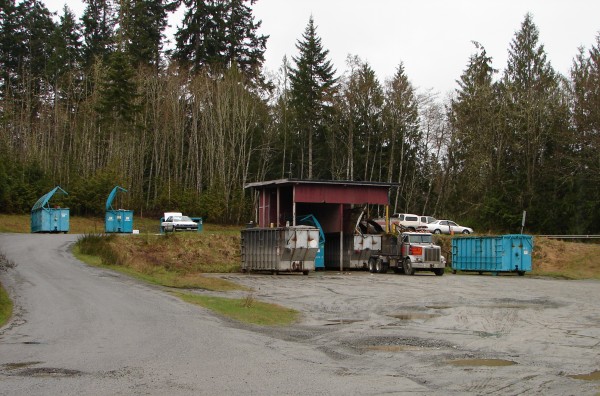 The Blue Mountain Transfer Station is an option for us locally who want to do our own garbage instead of curbside pick up.  It's also super easy to recycle there.
From their website:
Blue Mountain Transfer Station, at 1469 Blue Mountain Road, is operated by Waste Connections, Inc. under contract with the City of Port Angeles and in cooperation with Clallam County.


Cash and checks are accepted. Make checks payable to "DM Disposal". Sorry, no credit cards.
From Port Angeles:
Head east on Highway 101 for approximately 5.5 miles. Turn right onto Blue Mountain Road. Proceed about 1 mile to the station. Gate is on the right.
From Sequim:
Head west on Highway 101 for approximately 6.5 miles. Turn left onto blue Mountain Road. Proceed about 1 mile to the station. Gate is on the right.
Beginning January 4, 2011 – Days of Operation change to Tuesdays, Thursdays and Saturdays from 9am to 5pm.
For more information call 360-417-4874.
• Waste disposal is $204.65 per ton or $0.10 per pound.
• Minimum charge is $5.00 for 50 pounds.
• Large appliances, furniture larger than 4 feet x 4 feet, construction debris, tires, and yard waste are not accepted, but can be taken to the Regional Transfer Station in Port Angeles.
Recycling is at no charge. There are 4 drop boxes for recycling: cardboard, mixed paper, mixed containers, and glass (separated by color). Mixed containers include tin cans, aluminum cans, and plastic bottles and jugs. No other plastics are accepted.