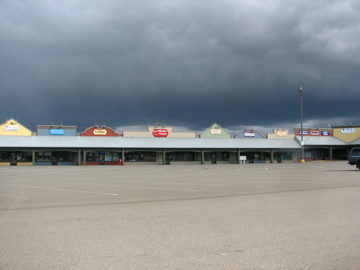 The day I was packing up to leave, we had a storm run through town. It was a Sunday and none of the stores were open in this shopping area. I was struck by the sun on the signs and the dark clouds in the background. (another little picture…I promise to learn how to make it so you can click on them and enlarge when I get back)
Day 10 of my vacation The plan is to spend most of the day checking out Albequrque and then head north towards Santa Fe! Ah, if I were only rich. I could retire in this area.
P.S. A little change of plans.  We found a great state park in Ft. Sumner, Bolgadoez _____.  It portrays "The Long Walk" when the Navaho and the Mescalero Apaches were driven to a reservation at Ft. Sumner. Very powerful and very interesting.   Then it was on to the International Folkart Museum in Santa Fe.  2 hours was not enough time.  Google this one.  You will like it.