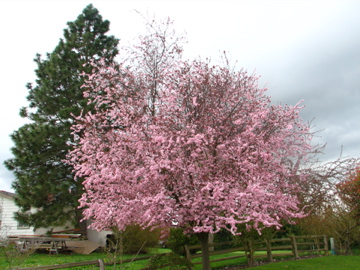 Did I mention I have a new computer? Well it has all the bells and whistles but I have not yet learned to use all of them. This picture is too small…if I raise it to the size I normally post, it looks "pixelly". Unfortunately, I don't have time to learn before I left. This gorgous flowering plum was in a friend's yard. Please bear with me.
Day 8 of my vacation We should be at the home of one of the aunts in Clovis. I am looking forward to this part of the trip. I want to visit with a cousin who is there now…and I don't even want to admit to how many years its has been since we saw each other.
P.S. Shopping, eating, visiting…now that's a vacation.  We head for Santa Fe/Taos tomorrow.  Thanks to  all of you who have visited. I'll be home in a week.